Christmas Calendar
Many players in casinos like to gamble a bit extra in holiday times, due to the casino Christmas Calendar. This is why we, when we starting to get close to Christmas in 2019, are going to give you the best Christmas bonuses at online casinos! Well, "'it's the most wonderful time of the year" as Mr Williams sang it! And before you know it, it is Christmas 2019, finally! One of the most interesting promotions was the Fred and Frank Christmas Road Trip which is a sort of calendar with new promos and offers almost daily.
While waiting, we have some older news so you can get a feeling of what types of Christmas casino bonuses you can expect.
What do get in a casino Christmas Calendar
Check out the daily Christmas calendar at Energy Casino. This one is packed with various prizes such as spins, deposit bonuses and other things.
There is a Christmas adventure over at Casumo called the Winter Games and almost certainly, they have created something extraordinary. This calendar includes daily tournaments, weekly raffles, specials and other bonuses.
Another fun daily calendar with various prizes, promos and bonuses is found over at Highroller. You will have to login and check out the Papa Pidge's special Christmas bag to find more about this.
In time for Christmas, Winstar had a special promo that let's players take part of up to 310 bonus spins. There are some great surprises from Santa at this gambling site for sure. At most, players have the chance to get up to 10 bonus spins every day with a total amount of 310 spins.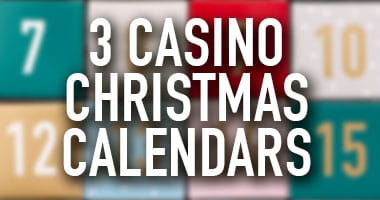 Important note:
 as with all promos, bonuses and signups at casinos – you need to read the terms and conditions beforehand.
---